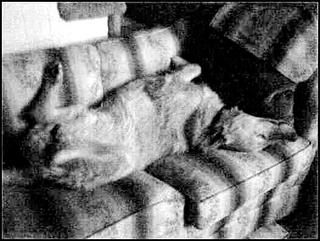 When I first got this couch, I had a long talk with Henry about him not being allowed on it. See how much he listens to me?!
There is a boss at work that walks by me every day and says 'Hey Rob, What do ya say?'.. For the longest time, I felt the need to reply to him. So, I would say, 'well.. I don't say much'.. which sounded really weird. I figured out today, it's more of his way of saying 'hey dude, what's up?'.. Like, you don't really need to respond to that, it's just a passing by thing. So, there you have it. I've decided I will no longer respond when he says that to me. I figured you all should hear this, it's my way of proclaiming I found yet another answer to lifes many questions. :)
Alice at work brought me a
brochure
she found. I have no clue what language it's in, but it says my last name a bunch! There are pictures of obscure items like sleeping mats, and knee braces.. some are labeled 'Gorczycowe'.. I emailed them to ask if i can get some royalties. :)
From
ancestor.com
:
gorczyca
Polish: metonymic occupational name for a mustard grower, from gorczyca 'white mustard'.
That explains my fetish for hot things. Type your own last name in and run the search. The site froze up on Stoianowski! haha.
I'm sure you've seen this, it's
chalk drawings
gone mad. If you haven't, check it out. It's VERY cool.
Going to Lansing tomorrow afternoon until Wednesday. Bryan and I are setting up early for this presentation on Wednesday - then Tuesday night hopefully roaming the city. I think we might go check out the
State News
to see an ol' intern and to check out their new location in a retired Gap outlet store.