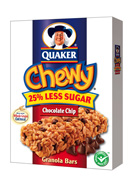 Pretty cool response from the Quaker folks. I don't find the time to complain very often, unless I'm sitting in front of a computer, eating, and there's wood in my food. :) I kind of chuckled at their response about me asking to send the wood in to them.
Dear Quaker:
The numbers on my UPC code actually read 305080, however, the previous menu didn't accept that, so I left off the last zero. I was enjoying my daily Quaker Chewy 25% less sugar Chocolate Chip Granola bar today when I came across something that was not chewable. I pulled it out of my mouth and found three piece of what appear to be either wood or straw. It is not food, whatever it is, as it is too hard to bite into. I set them aside and later examined them and it does appear to be small slivers of either wood, straw or sticks of grain or something. I saved them, if you would like me to send them to you. Luckily I didn't swallow them as I'm sure that would not have been good. The edges of these foreign objects are sharp. Please let me know if you would like me to mail these to you. Thanks.
Rob:
We're sorry you found something in one of your Quaker Chewy Granola Bars that caused you concern. Your well-being and the reputation of our products for quality and safety are of the utmost importance to us. It's important that we know about your report and we're relieved to learn that you were not injured.
Many safeguards are in place in our plants to prevent foreign materials from coming into contact with the product. Screening equipment and inspection procedures should prevent an occurrence such as you reported. Our quality assurance team has been notified and your comments serve to stress the importance of our inspection procedures.
Please accept the coupons we've mailed you and our sincere apologies for any inconvenience related to this matter. Your coupons should arrive in about a week. Please be assured that we will always strive to produce high-quality products in which you can have complete confidence.
With regards to what you're holding on to, it won't be necessary for you to send them to us as we have all the information that's need for quality assurance. We thank you for thinking of us.
Thank you, Rob, for your business and loyalty to Quaker. We hope you'll continue to select and enjoy our products for many more years to come. After all, we know you have a choice of brands and always appreciate you choosing ours. We're confident your next Quaker Chewy Bar will offer you a pleasant experience.
Quaker Consumer Relations